My greatest concern, come the apocalypse, is how on Earth I'm going to transport all my looted groceries home from Sainsburys without my yoghurts getting punctured by falling debris. I don't actually know how to drive, but I'm relying on the fact that the apocalypse will happen before I need to learn – and if these rugged vehicles are sufficiently big and ugly I'll smash out my own roads, dammit. With the help of these beauties, *nothing* need stand in my way.
Guest post by Leila Johnston
1) The Terrier
This armoured super digger is the Army's most advanced engineering vehicle. It can dig, lift, tow, clear mines and destroy! The Terrier weighs 30 tonnes, and gets up to 50 mph. Five onboard cameras and thermal imaging technology enable 360 degree surveillance, day or night. It can also be operated by remote control, like Doc Brown's Delorean, and fitted with various bits of kid, including a forklift and rock hammer. Oh and it's equipped with a 7.62mm General Purpose Machine Gun and smoke grenade launchers. So if anyone threatens my yoghurts, I'll blow their head off. Then dig a massive hole to bury it in. See these rugged vehicles on the British Army website
2) Ruggedised campervans.
A few years before I was born, my parents drove across the Middle East in a Land Rover. They had tales of bunking down against sandstorms and shaking off local kids who would jump on their roof rack ladder, with a sharp brake. But rugged though a series 2 Land Rover is, it is still 'just' a Land Rover, and nowhere near as cool as these rugged campers which also look like they've been around since the 70s (in a good way). My parents could've taken inspiration from Dead Reckoning, surely one of the most rugged vehicles, too – Land of the Dead's mobile firework display, developed on the premise that zombies are mesmerised by the pretty explosions. Well, who isn't?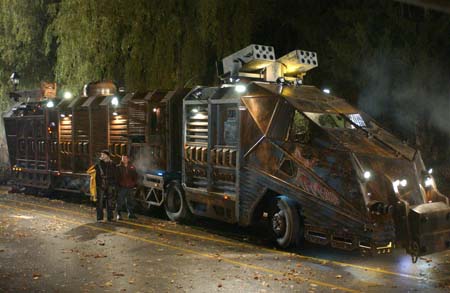 3) Armoured buses
A common sight in Israel, these might raise eyebrows over here, but given the option, who wouldn't choose the belt and braces approach to the daily commute and hop onboard a bulletproof bus? Everyone knows zombie survivors like their buses (the minibus in the new Dawn of Dead had a scoop on the front) but it's the police who have the coolest stuff, as usual. These vehicles really exist, and for better or worse, are just going to get more common. If you want to look inside an armoured vehicle while simultaneously *terrifying yourself*, watch this amazing video about the construction of indestructible cars.
Leila Johnston is the editor of Hack Circus magazine. The next issue is out in June and contains a piece by Lewis as well as the true story of how a bulldozer was converted into a tank…
Want to read more about the behind-the-scenes fundamentals of how our modern world works, and how you could reboot civilisation if you ever needed to...? Check out The Knowledge - available now in paperback, Kindle and audiobook.